Our Inspiration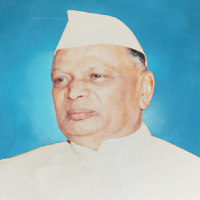 Hon.Late Shri. Shankarraoji Chavan
Ex - Home Minister, Govt. of India
The trust "Marathwada Mitra Mandal, Pune" was established in 1967 by Hon. Late Shri. Shankarraoji Chavan, Former Home Minister, Govt. of India as the "Founder Member and President". Hon.Late Shri. Vilasraoji Deshmukh, Minister of Science and Technology and Minister of Earth Sciences, Government of India was the President; heading the Board and the advisory panel. Presently, Hon.Shri Shivajirao Ganage an industrialist is the President of the Executive Committee of Marathwada Mitra Mandal which also includes many Industrialists, Academicians and Philosophers. Urge to help Marathwada grow and prosper created a society with the objective that facilitated the stay of the regional students by providing hostel or similar accommodation in Pune.
MISSION OF THE TRUST
To impart quality education for Professional Excellence and sustainable development through continual improvement and team work.
SOLE OBJECTIVE OF THE TRUST
"Welfare of Masses"
---
BOARD OF EXECUTIVE COMMITTEE MEMBERS
| | |
| --- | --- |
| Shri. S. D. Ganage | - President |
| Prin. B. G. Jadhav | - Exe. President |
| Dr. M. V. Suryawanshi | - Vice President |
| Dr. S. B. Jadhav | - Vice President |
| Dr. N. V. Birajdar | - Dy.Exe.President |
| Shri. K. H. Mungale | - Secretary |
| Shri. A. S. Pawar | - Treasurer |
| Shri. N. T. Kitekar | - Joint Secretary |
| Shri. S. S. Garge | - Joint Secretary |
| Dr. S. H. Gawhane | - Member |
| Dr. V. S. Patil | - Member |
| Prin. D. S. Bhandari | - Member |
| Shri. T. P. Nivalikar | - Member |
| Shri. S. S. Suryawanshi | - Member |
| Shri. J. M. Pawar | - Member |
EXISTING INSTITUTIONS MANAGED BY MARATHWADA MITRA MANDAL